Found a great diagram today to help those of us without professional training to describe parts of the hoof.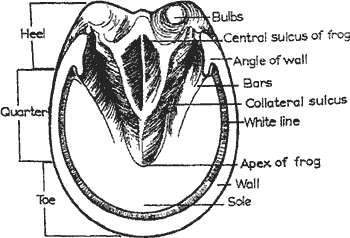 Embarrassingly, I did not realize there was a difference between bars and quarters. I am so happy to be corrected!
Quick update: Buttercup is scheduled for her second barefoot trimming and Equicast application tomorrow, so I will have updates. She is sound on everything but pavement right now and moving pretty comfortably, despite tearing off most of her casts in less than two weeks.